Between playing Starcraft and working on contract projects, there hasn't been much to write about lately. However, the weather in Greenville has been so nice this spring that I've been trying to make more time to just get outside and enjoy the sights and fresh air.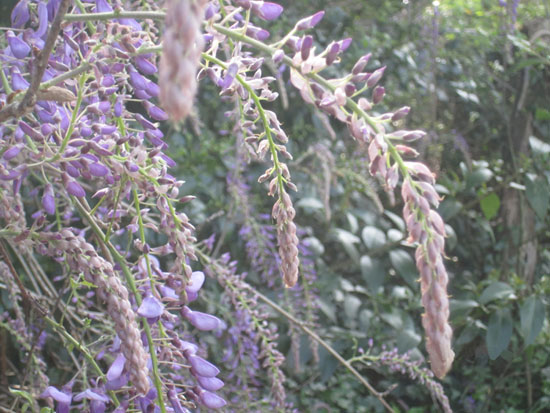 These purple flowers bloomed in late March, and while they didn't last very long they did produce an extremely strong and pleasant scent. Â So nice, in fact, that the neighbor came over and requested a few clippings on behalf of her daughter. Â I'm not exactly sure what kind of flowers these are, but they nice to have around for the brief while they were in bloom.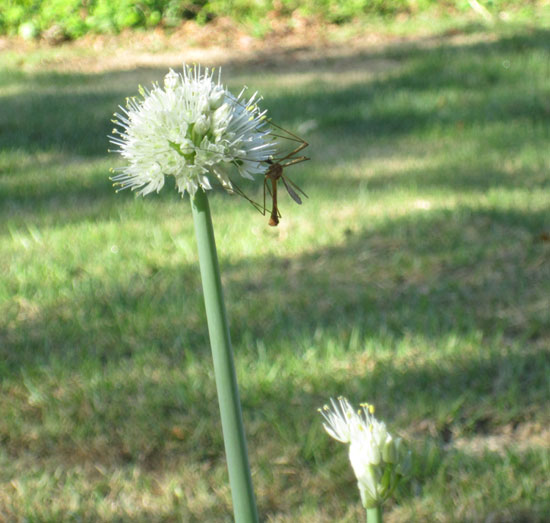 We haven't had much time to start a vegetable garden this year, but I did manage to get a few scallion roots potted in time for a springtime bloom. Â I also managed to get one good shot of a mosquito hawk feasting on the nectar of its flowers before my battery started failing and the camera's auto-focus got confused. Â Apparently, despite the carnivorous name, adult mosquito hawks don't eat other bugs – just nectar. Â The larvae will eat other bugs' young, but the grownups seem to have a sweet tooth. Â On rare occassions, adult females will drink blood to aid in egg development, but their poor flight skills and easily-spotted size makes this a pretty risky strategy.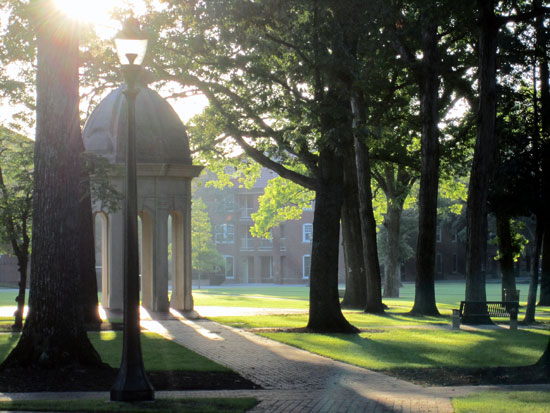 The last shot I have today is from the campus of East Carolina University, located about half a mile from our new house. Â The air at dawn is a bit brisk, but the view is gorgeous and it makes for a nice bike ride. Â At this hour, the campus is quiet and the green space is empty, so it makes a perfect setup for tranquil shots.
---
Greenville might be lacking in some of the urban conveniences I've become accustomed to, but it is a great place when it comes to clean air, the beauty of nature, and friendly neighbors. For now, it is a nice place to call home while Aisling works on her graduate degree, but I don't think we'll be settling down just yet…